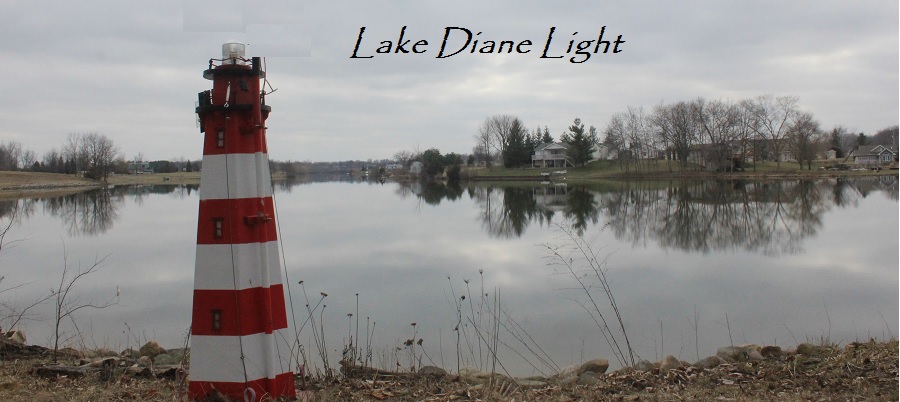 Lake Diane Light
Dedicated to the fair Lady Susan, Southeast Michigan's own Lady of the Lake.
Construction began in the fall of 2012 while the Lightkeeper was recovering from multiple eye surgeries. Like many projects, the Light experienced major Scope Creep: "While we're at it we might as well include THIS, and we could do THIS, and..." You get the picture.
In addition to the structure itself, the windows light up at night, the beacon flashes, and the Lake Diane weather station is mounted on top. All functions are solar powered!
Lightkeeper's Favorites
Assateague Light | Hatteras Light | Marblehead Light | Bodie Island Light | Okracoke Light | Old Baldy Light | Currituck Light | Oak Island Light | Lake Erie Lights
Assateague Light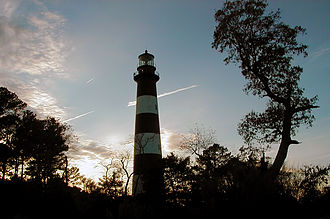 This is the Light that started it all. In May of 1972 the Lightkeeper took the Lady Susan to Chincoteague Island on their honeymoon. Lady Susan had never seen a lighthouse, and fell in love with them.
The fact that the brand new Lightkeeper's Lady found a field of pink Lady's Slippers in full bloom, and the dozen or so conch shells we found on the beach didn't hurt.
Being newlyweds, the less-than-ideal weather wasn't an issue....
The Lake Diane Light is patterned after the Assateague Light
Hatteras Light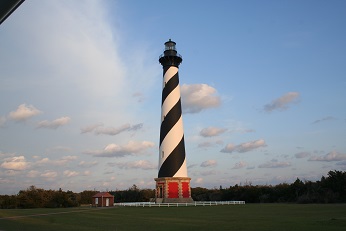 The Hatteras Light is located on Cape Hatteras on North Carolina's Outer Banks. It has a long and interesting history. Ever try to move a lighthouse? The National Parks Service did!
Marblehead Light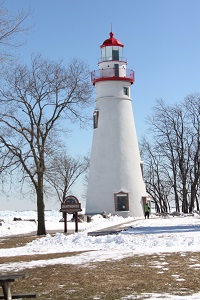 Marblehead Light. Close to home, easy to get to, and a frequent daytrip destination. This was a cold "...winter day in a deep and dark December" on Lake Erie. The ice was breaking up that day.
Marblehead was the first destination of the Lady and her Lightkeeper when the economy dictated an exodus from their idyllic Almost Heaven home in 1984. The place we stayed is still there - where a very young son slept in a dresser drawer, and our older daughter got hit in the head with a softball. Guess who threw it.
And no, neither the Lightkeeper nor his Lady are "a Rock" or "an island"!
(Apologies to Paul Simon)
Bodie Island Light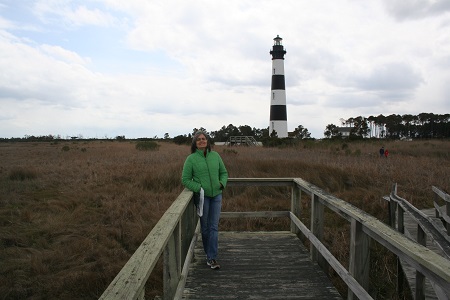 Located on the Outer Banks, Bodie Island Light (say 'BODY' Island...) was one of several we visited on Lady Susan's Spring Break in 2009. When we visited this Light we met an interesting fellow who had grown up there, assisting his father who was the Lightkeeper at the time. Had lots of stories and liked telling them! He was signing his books that day. We have one somewhere....
And yes, that's the Lady Susan!
Okracoke Light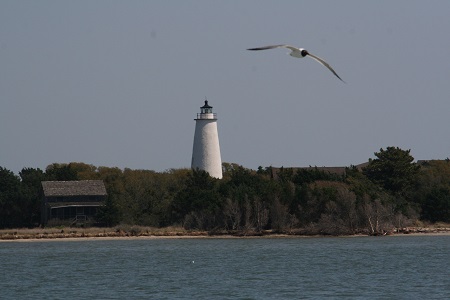 Same 2009 Spring Break. We added a lot of Lights to our 'We've been there' list that trip.
We took a lovely stroll into the middle of a garden to to view this Light more closely. This picture was taken on the ferry on our way to visit my sister on Oak Island.
Any idea what it takes to bribe a gull to pose for a photo?
Old Baldy Light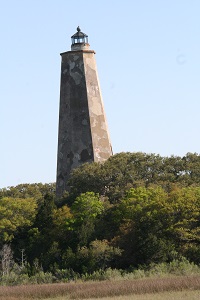 Spring Break again, this time a year later, 2010. See a pattern here?
It was a cool, blustery day for a ferry ride over to Old Baldy. We ended up buying jackets because we were freezing. (Clearance, good price, nice logo.) We rented a golf cart to tour the island.
"Is this as fast as this thing will go? And it doesn't make any noise!"
"You WILL NOT tweak it!"
"Ah, Mom! (Yes, Dear)"
We dined that afternoon at a delightful little local place - Eb and Flo's Steam Bar. We shared a Go-zinta Boil. You know - everything you can find 'goes inta' the boiling water - corn, potatoes, shrimp, scallops, clams, fish, everything.
Currituck Light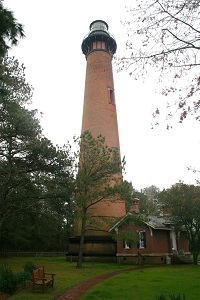 Back to Spring Break 2009....
We purposely went to the Currituck Light first on this trip. It was drizzling and generally yucky when we got there.
Lady Susan: "If you turn left here we can go find a new Light!" Yes Dear.
This picture is the best we could do from the setting and the weather. On to the Really Nice Hotel oceanfront, paid for with all the Frequent Sleeper points I've accumulated over the years.
Oak Island Light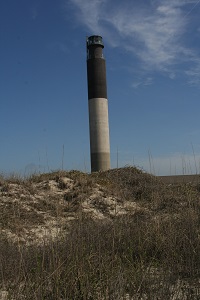 2009 again.
Oak Island, NC. Home of my sister and brother-in-law (but mostly the brother I didn't have) and our canine nephew Beau.
Richard and Beau took us on a tour of the Oak Island Light.